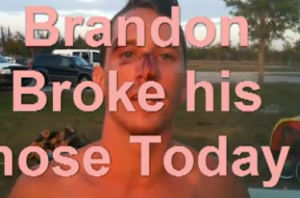 Brandon broke his nose on a knee board 45 minutes prior to therapy.   This video shows his injury immediately after and at 24 hours.
Use of a Zeta Probe:
Reduced pain immediately;
Reduced secondary trauma;
Bruising & swelling were reduced by approximately 75% of untreated levels;
in 14 minutes.
Treated wounds heal 4x faster than untreated. This video illustrates the care method and shows results at 20 hours post trauma.
The Zeta Probe is preferable for post-injury and post-surgical trauma care because:
It reduces pain by about 80%;
Reduces recovery time by about 75%;
Delivers more focused energy to damaged tissue than other PEMF devices
Aids dispersion of cellular waste
No discomfort to damaged tissue
Limits/prevents inflammation
Reduces infection vulnerability
Reduces scarring.
Immediate care reduces healing time by limiting the secondary tissue damage, cellular distress, and ischemia. Visit our Injury Care Portal for a full injury care protocol.